Baking a fruitcake is a little different than regular cakes. In this post, Fruitcake 101, you will find tips for baking the perfect fruit cake, for storing your fruitcake whether you make yours with alcohol or fruit juice.
Table of Content
---
I know Christmas is coming so everyone has almost started with the fruitcake preparations. To those of us that have been doing fruitcakes for years, it's just a regular cake. For those that are just starting out, it's quite unnerving when people tell you - fruitcake is different. How is it different? Why is it different? and What do I need to do differently?
My mom baked cakes a lot. In fact, she took orders for cakes but never decorated them. I remember that once July sets in she'd soak her fruits. And once October sets in she'd start making her preparations and arrangements to make sure she has a nice cozy cool corner for the fruitcakes to rest. That's what she'd call 'the season. She was very good at baking, so she'd get the book way in advance. I credit her for all my baking skills.
How is fruit cake different?
Well, it has so much more than just four eggs and butter. The real difference is the addition of all those gorgeous fruits.
Most often we eat our cakes baked fresh, but not a fruitcake. Usually, a fruitcake is well preserved and fed with alcohol over weeks before the special day.
If you do not follow the right process for storing fruit cake you could end up with a moldy fruit cake, which is not very pleasant.
Most cakes are decorated with buttercream, ganache fondant, and such but a traditional fruitcake is brushed with orange marmalade, then wrapped in marzipan, and then covered in Royal Icing or sometimes fondant.
Fruitcake 101
I have given you a few fruitcake recipes so this post is not about one recipe. And you can use it with almost all fruitcakes that call for dry fruit and nuts. Especially the ones you make during the Christmas season.
My recipes are scattered between my three blogs, this one here as well as my contribution to Cake Decorating Tutorials and East Indian Recipe. I will leave the links below.
Here, I have compiled a few tips that I think are really important to know when baking fruitcakes. I do hope you find them useful.
Tips for baking a perfect fruitcake
Always soak the fruit, at least overnight if not for longer t it will soften and make the cake moist. Soaking the fruits means that the fruit will not absorb any more moisture from the cake batter and will cook in its own juices. This results in a very flavorful moist cake.
Dust the fruit in flour before you add it to the batter so it will not sink to the bottom of the pan. If the fruit is wet, drain the excess liquid and dust with flour just before adding it to the batter. The fruit on its own, when added to the batter, tends to sink to the bottom of the cake. When you dust the fruit with flour - this flour helps to hold onto the cake batter keeping it in place.
You can add the liquid in which the fruit was soaked to the batter separately (unless you want to limit the quantity of alcohol or unless stated otherwise in the recipe).
Fill the pan only ⅔ full, not more. Fruitcakes do not rise when baking because they do not have too many leavening agents or lots of eggs. But a ⅔ full pan is always good for even baking cakes.
Fruitcakes cook long and slow. This is why lining the baking pans on all sides is very important. This will prevent the outside from overcooking while the center is still cooking.
When it comes to fruitcakes, I prefer to line the pan as well as use cake strips. This always gives me a moist cake. It does take longer to bake with slow cooking.
Ensure the oven temperature is low so the batter will cook evenly without drying out the fruit.
Often adding some water to the baking tray around the pan or a small bowl of water in the oven can help keep the cake moist.
Mixed spices and flavors
One of my pet peeves about Christmas baking or should I say fall recipes is that people add too many spices. So much that everything tastes like cinnamon, pumpkin spice, or gingerbread spice. I think adding spices is great if you can keep the proportion to a minimum. The spices are there to enhance flavors not to overpower the other flavors. So, next time you follow a recipe with spices, perhaps check to see if you want them all or reduce the quantity a bit.
Mixed spice is generally made with cinnamon, ground ginger, ground cloves, allspice, ground nutmeg sometimes even caraway seeds, cardamom, and cayenne.
And if you cannot get mixed spice, add ⅛ teaspoon each of ground cinnamon, ground ginger, ground clove, and or ground allspice.
Don't like spices in your cake? Add ⅛ teaspoon Cinnamon, 1 teaspoon vanilla, or ½ teaspoon almond extract - you can add all three or just simple plain vanilla extract.
And if you are going to use orange marmalade to brush the fruitcake later you could add ½ teaspoon of orange extract to enhance the flavors when baking too.
---
Tips for storing fruitcakes
In general – you can store Fruitcake at room temperature for one month, refrigerator for six months, or store it in the freezer for up to a year!!!
To ensure you have a nice moist fruitcake
Take a muslin/cheesecloth soaked in rum, brandy or fruit juice Wrap the cake well with this liquor/fruit-soaked cheesecloth.
Cover the wrapped cake in aluminum foil.
Do not let the aluminum touch the cake directly. The acid in the liquor will corrode the foil and affect the flavor of the cake.
Place the cake in an airtight plastic box.
Keep away from direct sunlight.
The liquor/juice-soaked muslin/cheesecloth can be refreshed every month to ensure a moist fruit cake (optional)
Place an apple in the box with the fruitcake to help keep moisture. (optional)
Extended Length storage – to store for more than a year. Cover the alcohol-soaked fruit cake in powdered sugar, then in plastic, and then in an airtight container.
---
Troubleshooting
Why does my fruit cake not rise? A fruit cake is a dense batter loaded with fruit so it won't rise like a regular sponge cake. However, it is not a flat dense cake so there has to be some rise because we do have leavening and eggs in the batter. Make sure to check the baking powder is not expired.
Why is my fruitcake crumbly? Measure the ingredients properly, so there is a good balance of fruit to the cake batter. Too much fruit means there is not enough batter to hold it all together. Alternatively, too much sugar in a cake batter to crumble when you cut. Too little sugar can make the cake dense and tough.
My fruit cake is too dry? Often, over-baking a fruit cake is the cause of dry fruit cakes. A fruit cake must be baked at the right temperature. The too-high oven temperature will dry the cake. Follow the recipe closely, including baking times.
---
Do you have to soak the fruit for a fruit cake?
While fresh fruit keeps the cake moist, dry fruits can take moisture from the cake. Soaking the fruits ensures they are already moist so the cake stays moist and flavorful for longer. You don't have to soak the fruits for months, weeks, days, or hours. Even an hour or two is a good start.
How do store a fruit cake for longer?
Store a fruit cake in a cool dry place away from sunlight wrapped well in parchment or greaseproof paper and foil. Then place in an airtight container.
Later store a fruit cake for longer than one year. Cover the alcohol-soaked fruitcake in powdered sugar, then in plastic, and then in the airtight container.
What alcohol is best for fruit cake?
Personally, I love to use brandy, dark rum or Cognac. But, sherry, whiskey, and orange-flavored liqueur such as Cointreau work too.
How do you keep fruit cake moist? How do you prevent fruit cake from drying out?
By adding more moisture to the cake. Soak a cheesecloth with alcohol, fruit juice, or syrup. Wrap the cake in the soaked cheesecloth and place it in the refrigerator.
How often do you feed a Christmas Cake?
Well, this depends on how boozy you want the fruit cake. You don't want the cake too soggy but you don't want a dry or stale cake either. For a rich mature fruit cake feed it once every week for 12 weeks.
---
My BEST Fruitcake Recipes
This is the best rich fruit cake recipe. The perfect balance of fruit and nuts in a cake batter using brown sugar, butter, and spices. Traditionally, alcohol is used in fruitcakes but orange juice works great too.
Check out this recipe
This light fruit cake is a butter and semolina-based cake with lots of dried fruits such as raisins, currants, and cherries along with almonds and cashews. A simple and easy recipe that gets done in no time at all and is the perfect Christmas cake.
Check out this recipe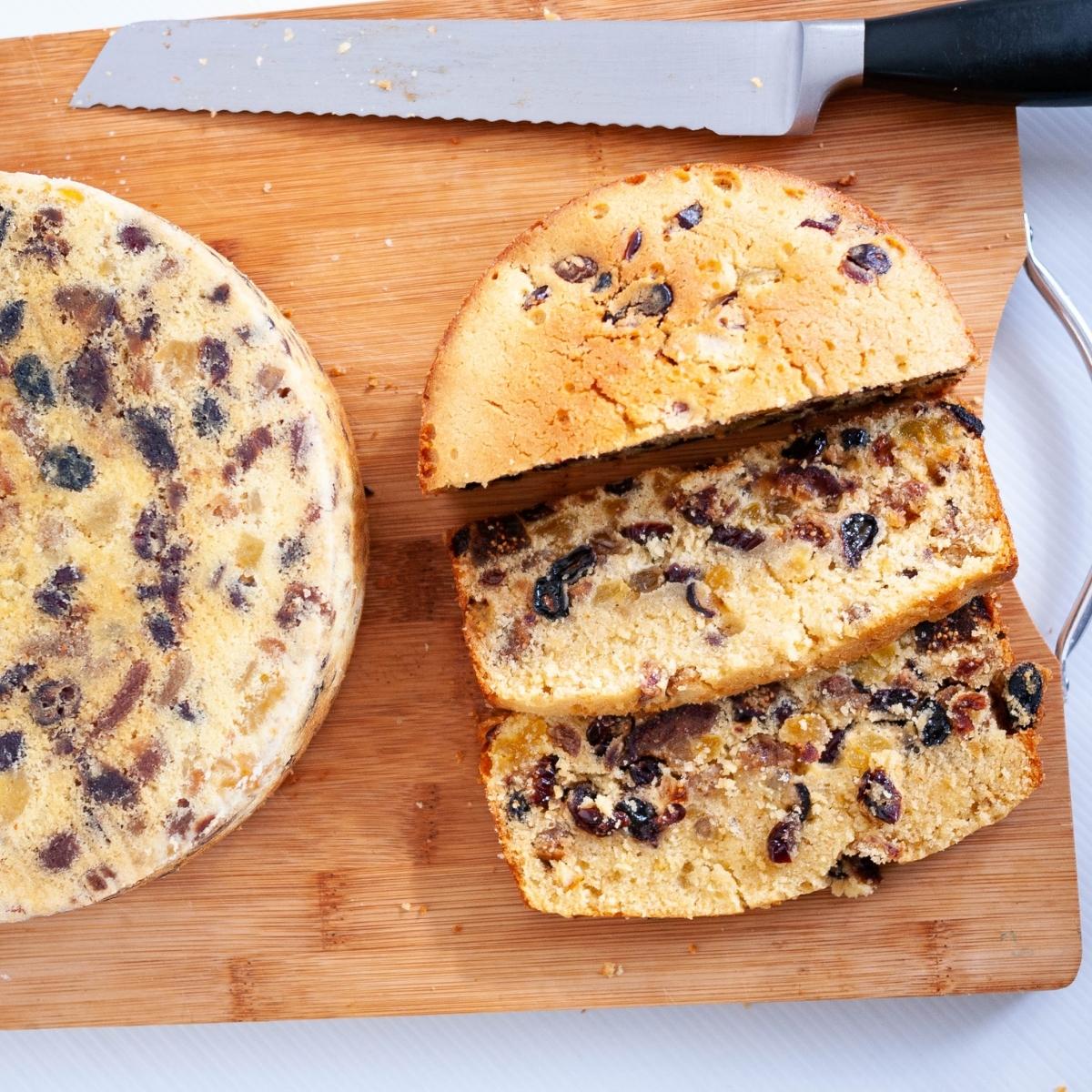 A traditional fruitcake is a must-have Christmas cake. Loaded with delicious moist fruits such as raisins, sultanas, cherries, and currants soaked in brandy overnight. This is a simple and easy dark fruitcake recipe that does not need much preparation
Check out this recipe
A traditional brandy-soaked rich fruit cake is as boozy as it can get. The secret to making this boozy cake is making it ahead of time so the flavors mature and the alcohol has macerated with the fruit. Which is why I call it a boozy Christmas cake or make-a-head Christmas cake.
Check out this recipe
This marzipan fruitcake is a butter cake made with lots of moist fruits and nuts along with sweet almond paste or marzipan. A surprising simple and easy cake recipe to make for the holiday season. Perfect for the Christmas sweets tray
Check out this recipe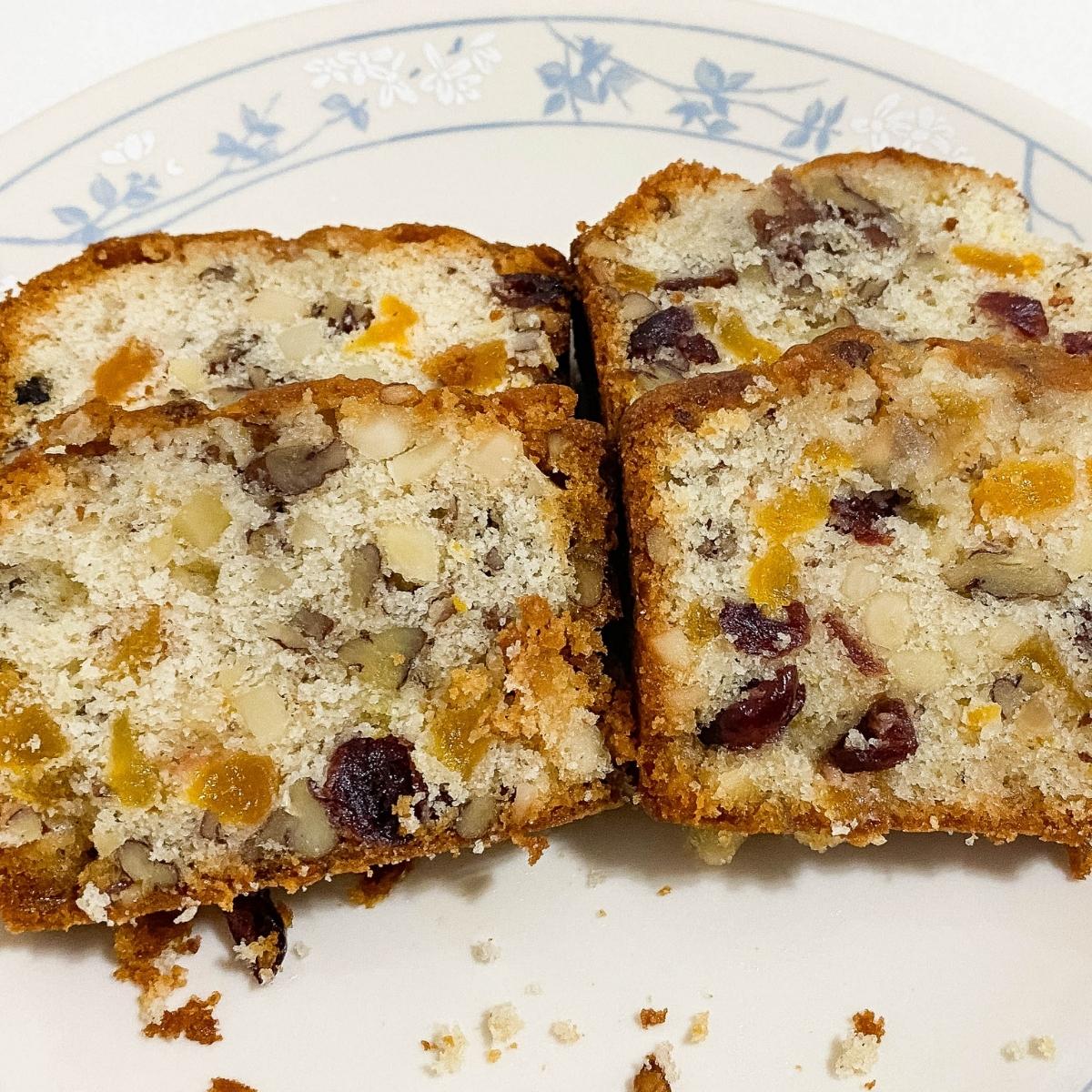 This sweet and moist almond cranberry cake has semolina flour, almond flakes, and dried cranberries. Cardamom and cinnamon give this cake a pleasant fall flavor. It is a good holiday dessert to serve with tea or to give as a gift to family and friends.
Check out this recipe
Dates and walnuts are a wonderful combination and absolutely delicious in a cake. This date and walnut cake batter use semolina which contributes to a wonderfully soft and moist texture. The recipe is simple and easy to make too.
Check out this recipe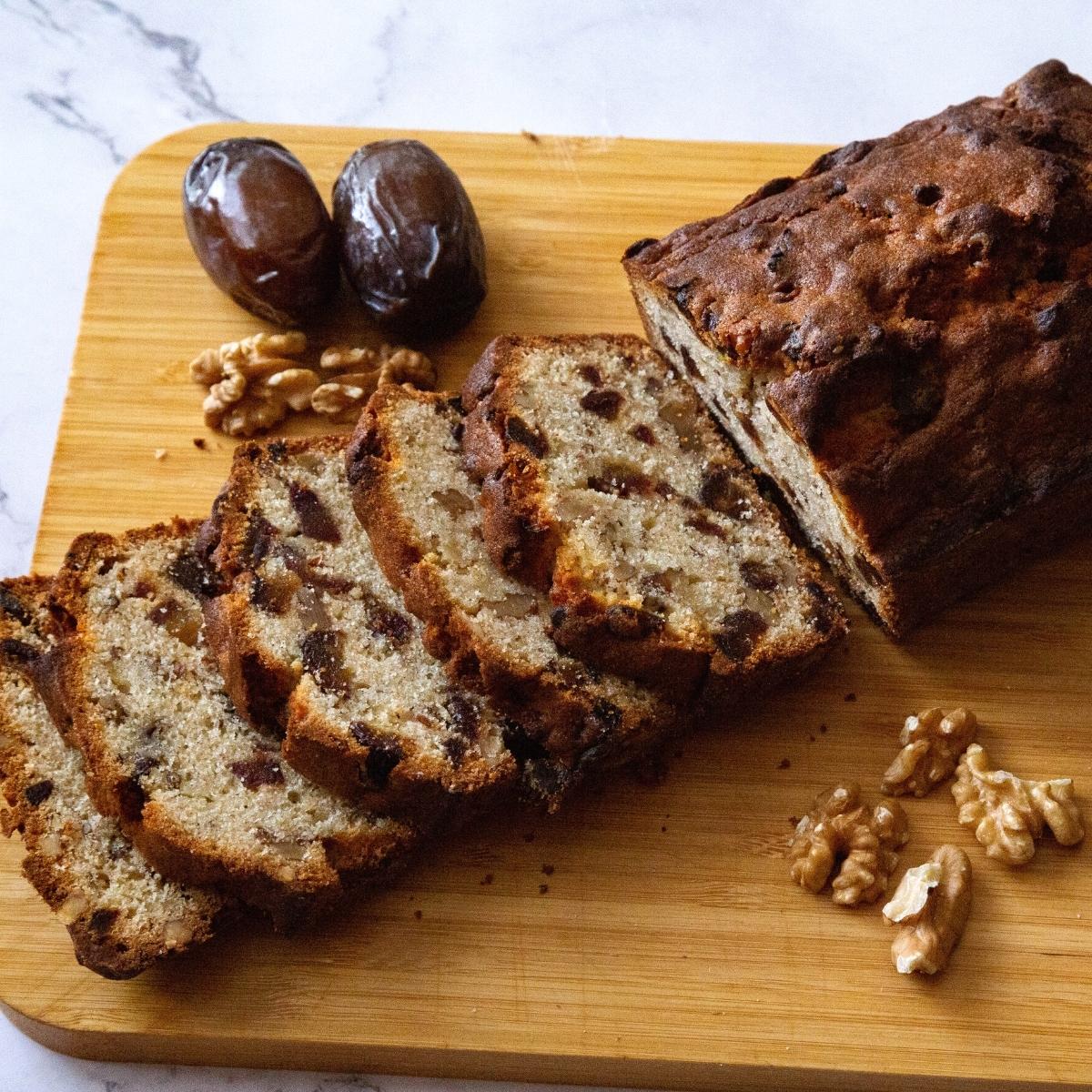 This candied fruit fruitcake is known as tutti frutti cake. Packed with lots of candied fruit peel and mixed nuts. Baked in a bundt pan with cream cheese and buttermilk batter for a moist and tender crumb. Perfect edible gift for the holidays too.
Check out this recipe
Add sweet sesame halva to your next batch of vanilla cake and you will be making this pistachio halva cake over and over again. This moist and delicious cake takes just 10 minutes to prep and 30 minutes to bake.
Check out this recipe
A classic rum cake is perfect to serve during the Christmas season. Made with brown sugar, molasses, and dark rum this cake is for adults only!
Check out this recipe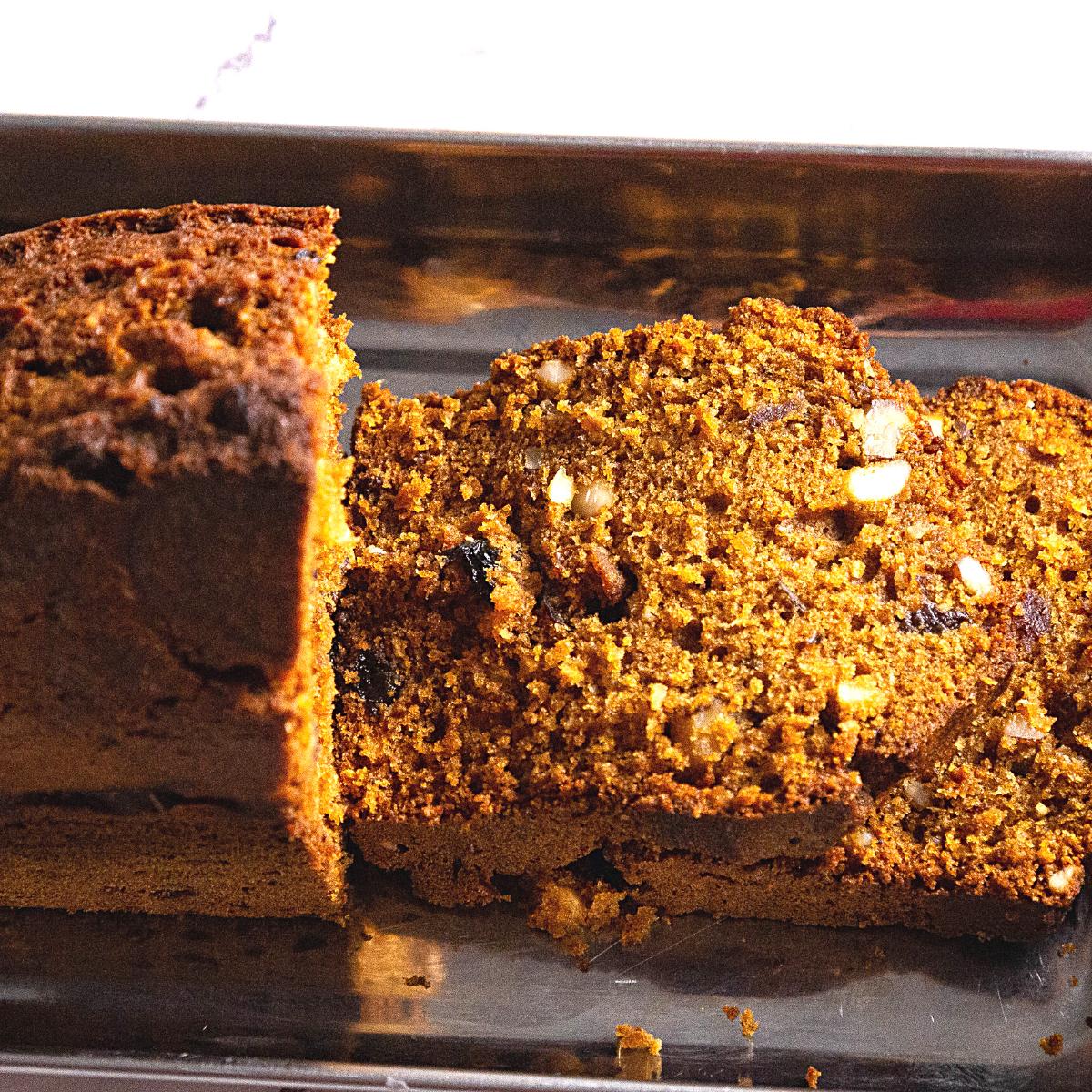 Black plum cake is a fruit cake made with semolina, black currents, and dark rum. Black treacle is what gives this cake that black color. You can make this with or without alcohol.
Check out this recipe
Did you enjoy this article/tutorial?
Please ⭐️⭐️⭐️⭐️⭐️ it
Don't forget to Save it for latter.
You can also find a collection of my tutorials and recipes on Pinterest.
Follow me on Facebook, Twitter, and Instagram for more.
Of course, make sure to Subscribe to my blog to receive my tutorials, and recipes by email.